Reitz Construction
- Concrete Contractor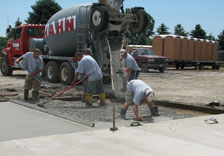 Reitz Construction, Concrete Contractors provide quality residential, commercial and industrial concrete flatwork. In addition to new construction projects, Reitz Construction is fully equipped to handle demolition and removal of old concrete for replacement work.
Typical exterior concrete flatwork projects include: diveways, sidwalks, patios, parking lots, service walkds, courtyards, floating slabs, etc. Reitz has also done exterior work like sports courts and concrete pool decks.
Typical interior projects include: garage floors/slabs, basement floors, and warehouse/commercial floors.
We have also done decorative work in sunrooms/4-season rooms. Concrete flatwork can be done in a traditional broom finish or Reitz Construction also offers
decorative finishes
. Reitz also handles numerous types of industrial projects like machine bases and utility trenches.
Reitz Construction is located in Blue Grass, Iowa and provides quality Concrete Flatwork, including Decorative Concrete, to Blue Grass, Davenport, Bettendorf, Muscatine, Clinton, Iowa; Moline, Rock Island, Illinois and all surrounding communities.
Concrete Contractor for
Iowa & Illinois
Davenport
Blue Grass
Bettendorf
Muscatine
Clinton
Moline
Rock Island
And All Surrounding Areas
Contact Info:
Reitz Construction, Inc.
621 W. Mayne Street
Blue Grass, IA 52726

Phone: 563-381-5036
Fax: 563-381-2222