Decorative Concrete
- Stamped Concrete
Craftsmanship Combined with Character & Individuality
Do you want to do something different with the old cracked concrete that needs replaced? Are you building a new home with a patio, service walk, porch, stoop, or sun room? Consider a more decorative look for your concrete project. Let Reitz Construction, Inc. design your decorative concrete with uniqueness, through your choice of color, pattern and texture.
Stamped Concrete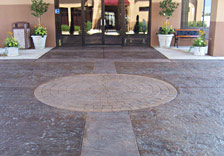 Reitz Construction's stamped concrete is a great way to add character to a home or a commercial business. Stamping can be used to enhance or beautify:
Patios and Porches
Driveways and Sidewalks
Courtyards
Pool Decks
Entryways
Floors
Stamped concrete is concrete patterned to look like stone, brick, tile, flagstone, slate or wood. Colors, patterns and textures can be designed to blend in with stone or tile at a residence or business. Stamped concrete can also be mixed with other decorative concrete techniques like exposed aggregate, grinding and polishing, or acid-etch staining.
Acid-Etch Staining
By staining your concrete, you'll get a completely unique look. No two applications ever look alike. Reitz Construction can apply chemical stain to new or old, plain or colored concrete.
Grinding and Polishing
Whether old or new, Reitz Construction can grind and polish concrete floors and leave a high-gloss finish that needs no waxes or coatings. The unmatched durability and performance of concrete makes this a wise choice for retail, restaurants, offices, warehouses and homeowners. Reitz Construction can give you this kind of smooth, high-luster floor, and we can stain it to look like polished stone.
Call
563-381-5036
or click for a quality
Concrete Contractor
.
Reitz Construction is located in Blue Grass, Iowa and provides quality Concrete Flatwork, including Decorative Concrete, to Blue Grass, Davenport, Bettendorf, Muscatine, Clinton, Iowa; Moline, Rock Island, Illinois and all surrounding communities.
Decorative Concrete For:
Patios and Porches
Driveways and Sidewalks
Courtyards
Pool Decks
Entryways
Floors
Contact Info:
Reitz Construction, Inc.
621 W. Mayne Street
Blue Grass, IA 52726

Phone: 563-381-5036
Fax: 563-381-2222